Singapore has dominated the results of the International Student Assessment Program (Pisa), released on Tuesday.
Approximately 540,000 15-year-olds in 70 countries participated in the OECD exam, which is held every three years by the Organization for Economic Cooperation and Development (OECD).
"The tests not only evaluate whether the student can reproduce the knowledge acquired, but is able to go beyond what he has learned and apply them in situations unfamiliar and out of school," says the statement from Pisa.
'We survived Boko Haram, but not to hunger': the tragedy of children killed by starvation in Nigeria
Country by country: the map showing the tragic numbers of feminicides in Latin America
This requires the ability to "explain scientific phenomena, interpret data, and conduct experiments."
Based on these assessment criteria, Singapore ranked first in the three disciplines assessed: Science, Mathematics and Reading.
Brazil ranked low in all of them, performing below the 2012 assessment, and below most of the Latin American countries that were also part of the test: it was the 59th in Reading, 63rd in Science and 65th in Mathematics.
Singapore has gained positions in all three. In 2012, he had been the second in Reading and Mathematics and the third in Science.
But what explains the excellent performance of this island-state of Southeast Asia? Brandew Jeffreys, education editor for the BBC website, went there to check it out. Check out his story:
---
"If you think Math is difficult, you will not be able to learn," says Hai Yang, 10.
Along with other students in the 4D class at Woodgrove Elementary School, he is explaining the classes in the discipline I was following.
The class worked on a problem. The students took turns, standing up to say how they had solved the question. And they did it in English, one of several languages spoken in Singapore.
In the end, there was more than one correct solution. Most impressive was his dedication to understanding exactly how to do it.
"If we only copy the answer given by the teacher, when we grow up we may not know how to solve it," says another student, Megna.
Fundamentals
It is an approach known as Mathematics Domain, also used in schools in China and has been adopted in some institutions of education in other countries, such as the United Kingdom.
This is just one part of a success story that has sparked the world's interest.
Singapore benefits from having a lean school system in which teachers are gathered at the National Institute of Education to be trained.
Its director, Tan Oon Seng, told me that the institute recruits teachers based on their degree of knowledge of the subjects, and is expected to ensure that each child understands the basic elements of teaching.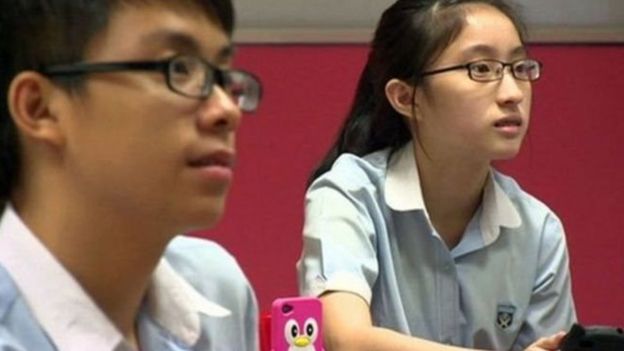 "In Singapore, we believe in fundamentals. For a child to be well educated, he needs to learn the language and grammar of various subjects, a language with which to read, a language with which to understand numbers."
Singapore has also taught a lot about how to make the teaching profession a rewarding activity. It is something that gives status, because the competition to become a master is great.
The country where childbirth is still the leading cause of death for women
Teachers can pursue a career that leads them to become principals, researchers in Pedagogy or a great specialist in classrooms.
They have time to deepen their knowledge and prepare the lessons.
Creativity
But Singapore is not accommodated in its prestige position. In two high schools, I witnessed attempts to make learning more creative.
At Montfort High School, teens are encouraged to make prototypes of products ranging from a system to water gardens to an electronic keyboard.
Using scientific and mathematical skills to solve real-world problems is exactly the kind of capacity that Pisa was created to evaluate.
At Montfort, an empty room is being transformed into an "inventor's laboratory". Simple tools and materials are available for students to use in their spare time and create things they can take home.
If you want to understand how to light your guitar with LED bulbs, that's where you'll learn it.
"We want learning to be connected to everyday reality so that it improves the experience not just in science but in other areas," says Professor Ricky Tan Pee Loon.
Another aspect that draws attention to education in Singapore is that principals change schools every six or eight years. There is also a great deal of emphasis on collaboration.
Khoo Tse Horng, director of St. Hilda School, says that the way teachers work is also different. When he started teaching, the most common was to be accompanied by a more experienced mentor.
"Today, teachers work together, grow together, research together, work together."
Competition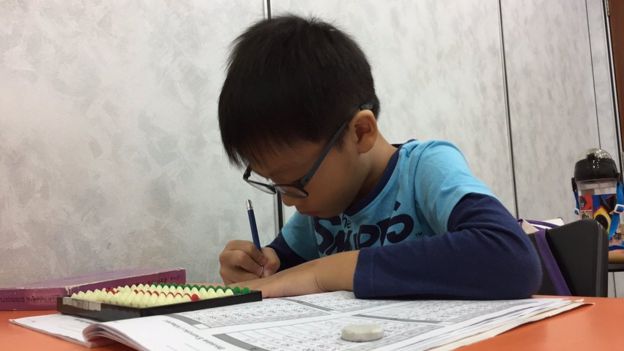 But the main collaboration for Singapore's success may come from the students' parents.
The system is competitive, and an examination at the end of the primary influences whether the child will get a place in the school they intend to attend in the next step.
In high school, students have an "express" academic curriculum and a normal one, which leads them to obtain a technical or vocational diploma.
Then at 8 pm on a certain evening, I accompany children up to 4 years old studying mathematics using abacuses (old calculation instruments). Lucas, age 6, seems calm as he runs out of time to solve a number of problems.
Her parents, Eric and Nicole Chan, tell me that they bring the kids for an additional class hour so they gain extra confidence.
There is a downside, portrayed in a recent film by volunteers from Singapore's Splash advertising agency, in which a girl becomes depressed and stressed in preparation for her exam at the end of primary school.
Jerome Lau, one of Splash's directors, says he was inspired by a friend's experience. "It's unfair to start judging and labeling them. Every child has the potential to get along in life."
The Singapore system is changing, partly because of the recognition that competition is high. Then, changes are being implemented in the way notes are published and used to rank students.
It is a system that recognizes some of its flaws, but remains committed to remaining among the best in the world.